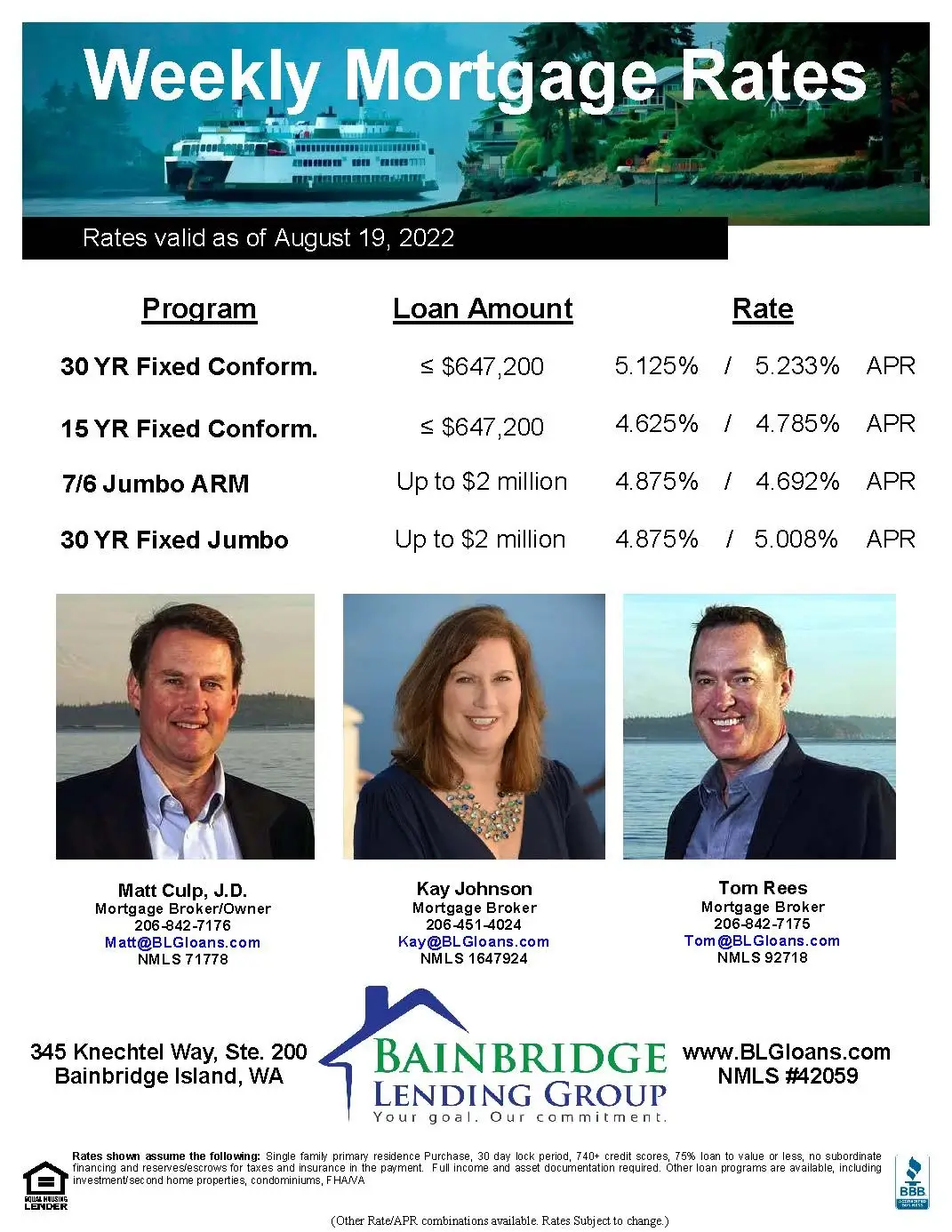 Here are the rates for today, August 19, 2022 at Bainbridge Lending Group:
30 Year Fixed Conforming: 5.125%  (5.233% APR)

15 Year Fixed Conforming: 4.625% (4.785% APR)

7/6 Jumbo ARM: 4.875% (4.692% APR)

30 Year Fixed Jumbo: 4.875% (5.008% APR)
For the rate sheet PDF, click here. 
Rates ended the week up again.  The 10 year bond ended at 2.98%, up from last week's 2.84%.  The Freddie Mac 30 year fixed rate dropped a bit to 5.13% from 5.22% last week.  Rates are up over .50%  since the low spot at the end of July.  Our rate sheet is attached.  Feel free to pass it along to anyone you know who could use our assistance.
The news of the week was more of the same—inflation pressures and what the Fed will do.  Data is still supporting the expectation of at least a .50% rate hike at the Fed's next meeting in mid-September—and perhaps another .75% increase.  There will be another set of employment and inflation reports for August for the Fed to digest before that next meeting.
We are seeing more inventory and more buyers inquiring to get pre-approved to be ready to make an offer.  So that is a good sign all the way around—more buyers and more houses equals more sales.  And perhaps we will see fewer all cash or multiple offers where the price is bid up.  A leveling out of the market with rates staying steady around 5.0% or so (hopefully) might bring some normalcy back into the market.  That would be good for the long term stability of the housing market and economy overall.
We are around all weekend should you need our assistance.
Matt Culp, J.D.                  Tom Rees                       Kay Johnson
Mortgage Broker              Mortgage Broker        Mortgage Broker  
NMLS #71778                    NMLS #92718               NMLS #1647924
206-755-6636  Cell           206-427-9912  Cell       206-372-4333  Cell