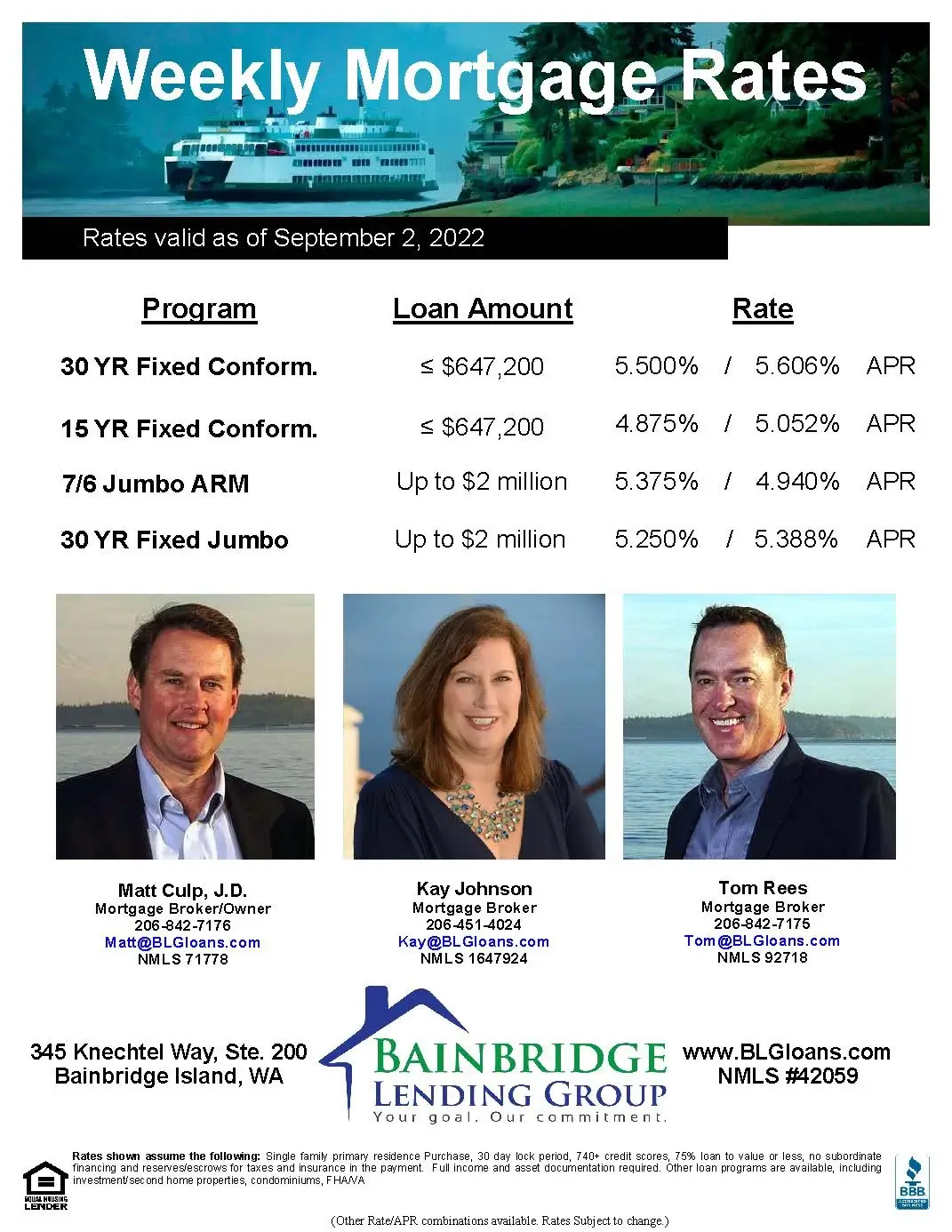 Here are the weekly rates as of September 2, 2022:
30 Year Fixed Conforming: 5.500% (5.606% APR)
15 Year Fixed Conforming: 4.875% (5.052% APR)
7/6 Jumbo ARM: 5.375% (4.940% APR)
30 Year Fixed Jumbo: 5.250% (5.388% APR)
For the rate sheet PDF, click here.
Rates move up again this week.  The 10 year bond ended at 3.19%, up from 3.03% last Friday.  The Freddie Mac  30 year fixed rate edged up to 5.66% from the previous 5.55%.  Our rate sheet is attached.  Feel free to pass this on to anyone you know who could use our assistance.
The main market mover this week was yesterday's August employment report.  There was solid job growth at 315k jobs added (in line with expectations) and the unemployment rate ticked up to 3.7% from 3.5% (not expected).  Wages grew, but at a bit slower pace than expected.  All of this was actually good for rates (and the economy) as the numbers were not a blowout.  Moderate wage growth is fine but a pop is inflationary and the Fed really watches that metric.  The unemployment rate edging up is a good sign—not because people are losing their jobs but because more folks are coming back into the work force to look for a job and thus are reported as unemployed.  This is good because the economy needs more workers! 
The bond market moved up all week in anticipation of Friday's report but then settled back down a bit yesterday once the data was out and digested by the markets.  There were a couple of Fed folks who commented during the week that they see their rate higher by another 1.5% or more by 2023 with no rate cuts likely in 2023.  Over the last month or so the markets had been pricing in the likelihood of cuts next year if the economy goes into a recession—driven in large part by the Feds aggressive rate hikes.  Comments like these and strong economic data have pushed rates back up since then.
Despite 30 year fixed rates in the mid-5.0% range we are seeing more buyer activity in our office.  More inquiries, a few more offers being made and more credit preapprovals being put in place to be ready.  Increased inventories and price reductions have piqued the interest of more would-be buyers.  That is good for all of us.
We are around this three day holiday weekend should you need our assistance.  Thanks.