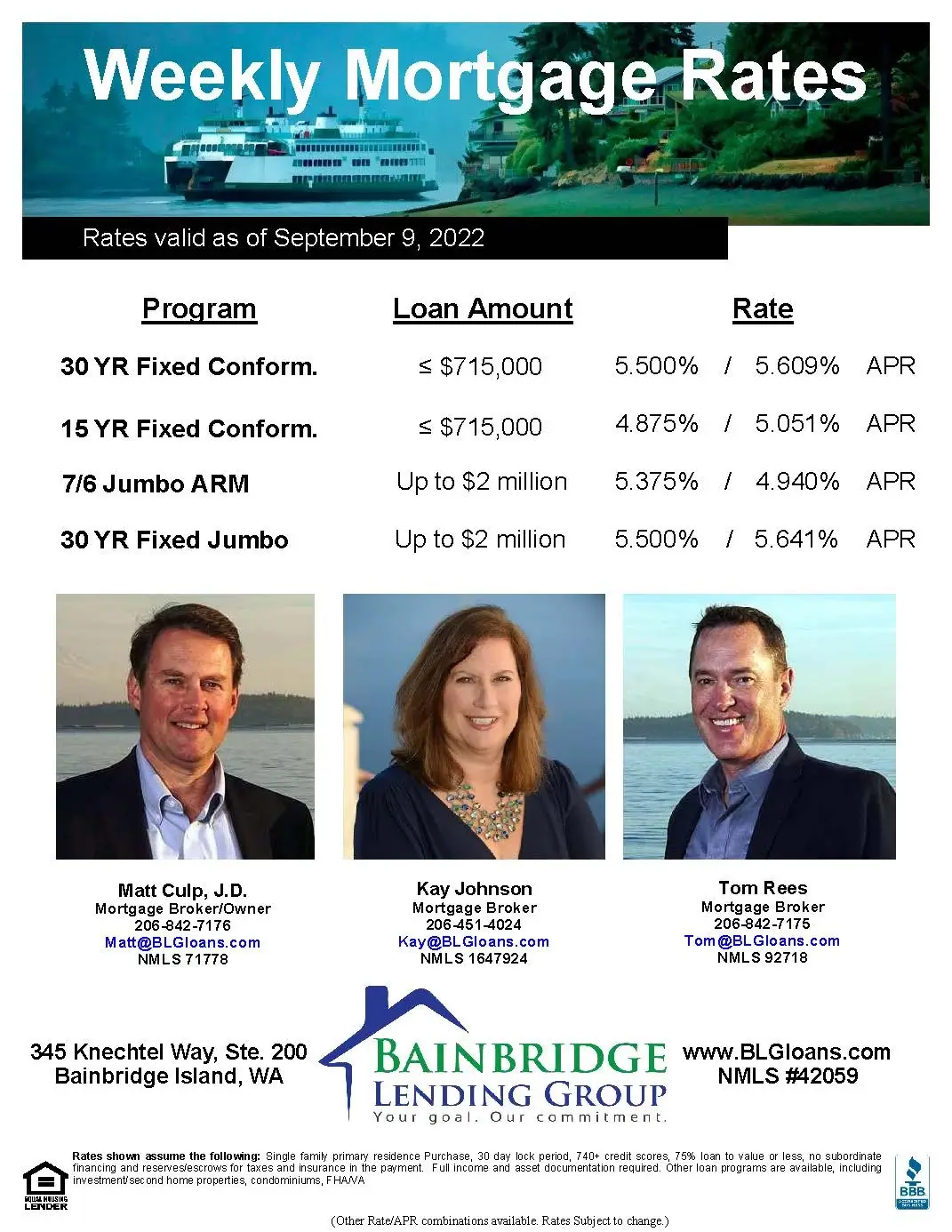 Here are the weekly rates as of September 9, 2022:
30 Year Fixed Conforming: 5.500% (5.609% APR)
15 Year Fixed Conforming: 4.875% (5.051% APR)
7/6 Jumbo ARM: 5.375% (4.940% APR)
30 Year Fixed Jumbo: 5.500% (5.641% APR)
For the rate sheet PDF, click here.
Rates ended the week flat to up slightly.  The 10 year bond rose to 3.32% from 3.19% last week.  The Freddie Mac 30 year fixed rate moved up to 5.89% from 5.66% last Thursday.  Attached is our rate sheet.  Feel free to pass it on to anyone you know who could use our assistance.
Not a lot of market moving data this week, other than continued Fed comments that they are going to stay vigilant on tamping down inflation (read continued rate hikes).  And the European Central Bank (ECB) raised their rate by an aggressive .75% this week.  Next week will see the August CPI figures on inflation and those will be important numbers as the Fed heads into their meeting the following week, where it is still expected they will raise their rate by another .75%.  A strong CPI reading will support further rate hikes and a softer reading could suggest fewer or slower hikes in the coming months.
Some good news on the conforming loan front—we now have access to a conforming loan (Fannie/Freddie type loans) max of $715k, up from the current $647k.  This is in (early) anticipation of the 2023 higher loan limit that will be officially announced around December.  The real new limit will likely be higher than $715k and is derived from  formula based on the previous year's housing price increases.  Conforming loans are generally easier to qualify for and get closed quickly, as compared to jumbo loans.  They have higher debt ratios, lower credit score and reserves requirements and allow for as little as 5% down.  This means a buyer looking at a price point of $750k can put as little as 5% down and get a conforming loan.  With 20% down that puts the price close to $900k.  Every little bit helps.
Finally, we have been made aware of the new purchase and sale agreement Forms 41 and 41c that will be going into effect next month that address the way the buyer's agent will now be paid—by the seller or the buyer of some combination.  Our understanding at this point is that any agent commission a buyer pays will be considered a Closing Cost.  So this new contractual arrangement should not be an issue on the lending side.  Of course if a buyer tight on funds has to come up with another $20-30k in cash to close that could make it harder to qualify for the loan.  And it is likely going to be a tricky topic for both listing and selling agents as everyone figures out how to navigate this new area of negotiation.  Any feedback from your side of the table would be appreciated.
We are around all week should you need our assistance.  Thanks.