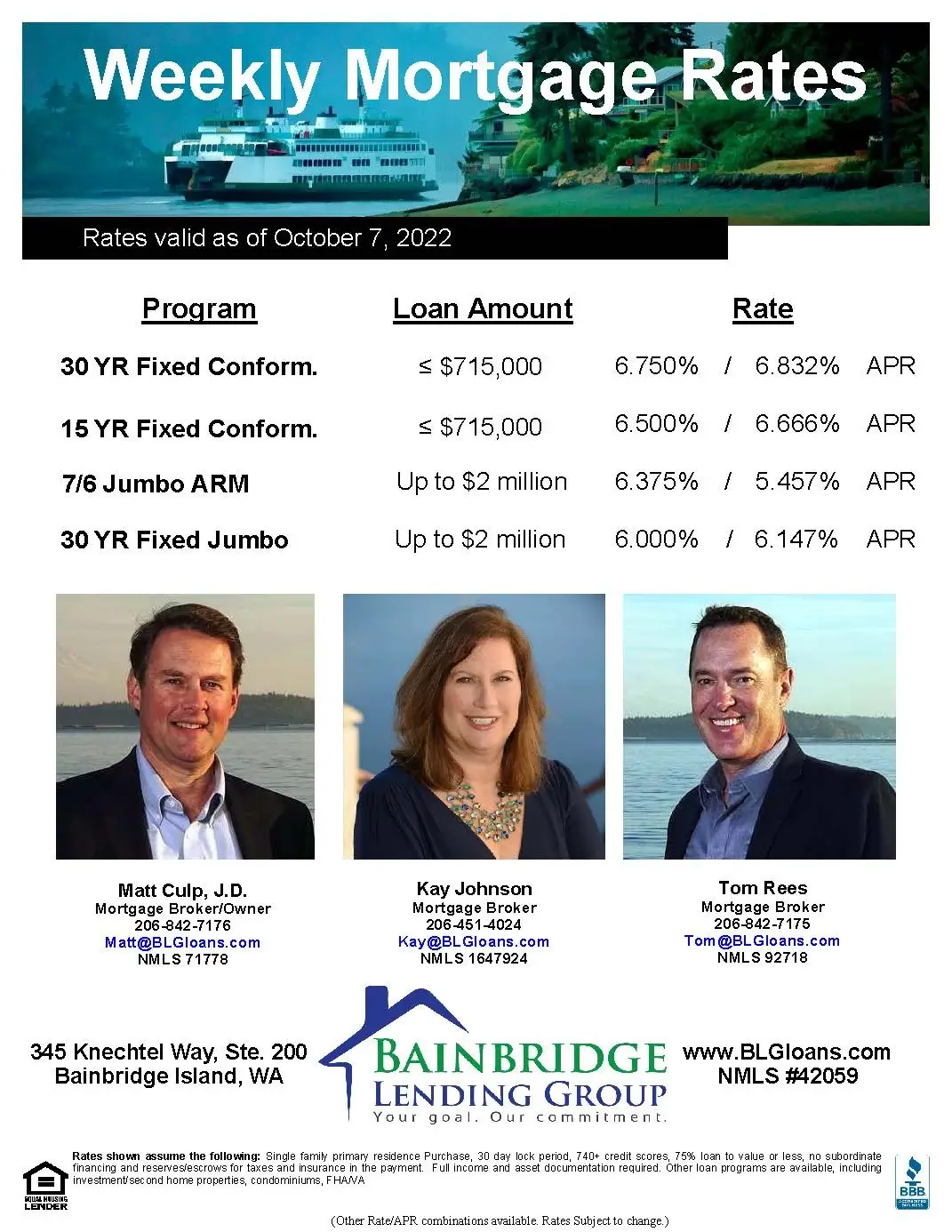 Here are the weekly rates for October 7, 2022:
30 Year Fixed Conforming: 6.750% (6.832% APR)
15 Year Fixed Conforming: 6.500% (6.666% APR)
7/6 Jumbo ARM: 6.375% (5.457% APR)
30 Year Fixed Jumbo: 6.000% (6.147% APR)
For the rate sheet PDF, click here.
Hi there.  Happy Friday.  Rates ended the week up yet again.  The 10 year bond ended at 3.88% up from last week's 3.83%.  The Freddie Mac 30 year fixed rate dipped a bit to 6.66% from 6.70% last week.  Again, the Freddie data is from Thursday to Wednesday so it doesn't always track what we put out on Friday.  Rates moved up yesterday and today.  Attached is our weekly rate sheet.  Please pass this on to anyone you know who could use our assistance.
All eyes today were on the September job report.  The data basically disappointed everyone.  It was stronger than expected in some components and weaker in others.  So the stock markets dropped and the bond yields moved up.  Consensus—that the Fed has more work to do on taming inflation and so the rate hikes will keep coming at the last two meetings of the year.  Next week will be the every important inflation data (CPI) and that will likely move markets.
Also attached (again) is the 2-1 Temporary rate buy down flyer (with a link to the seller fee calculator).  Let us know if you have any questions about this Fannie/Freddie program.  We have talked to a few of you in the last week or two about this program and we currently have one of our purchase files utilizing it.  It is a good deal for both buyers and sellers given where rates are.  And we have a purchase where the buyer is paying part of the agent compensation per the new NWMLS contracts.  Not an issue for the lender.
We are around all weekend should you or your clients need us.  Thanks and Go Mariners!