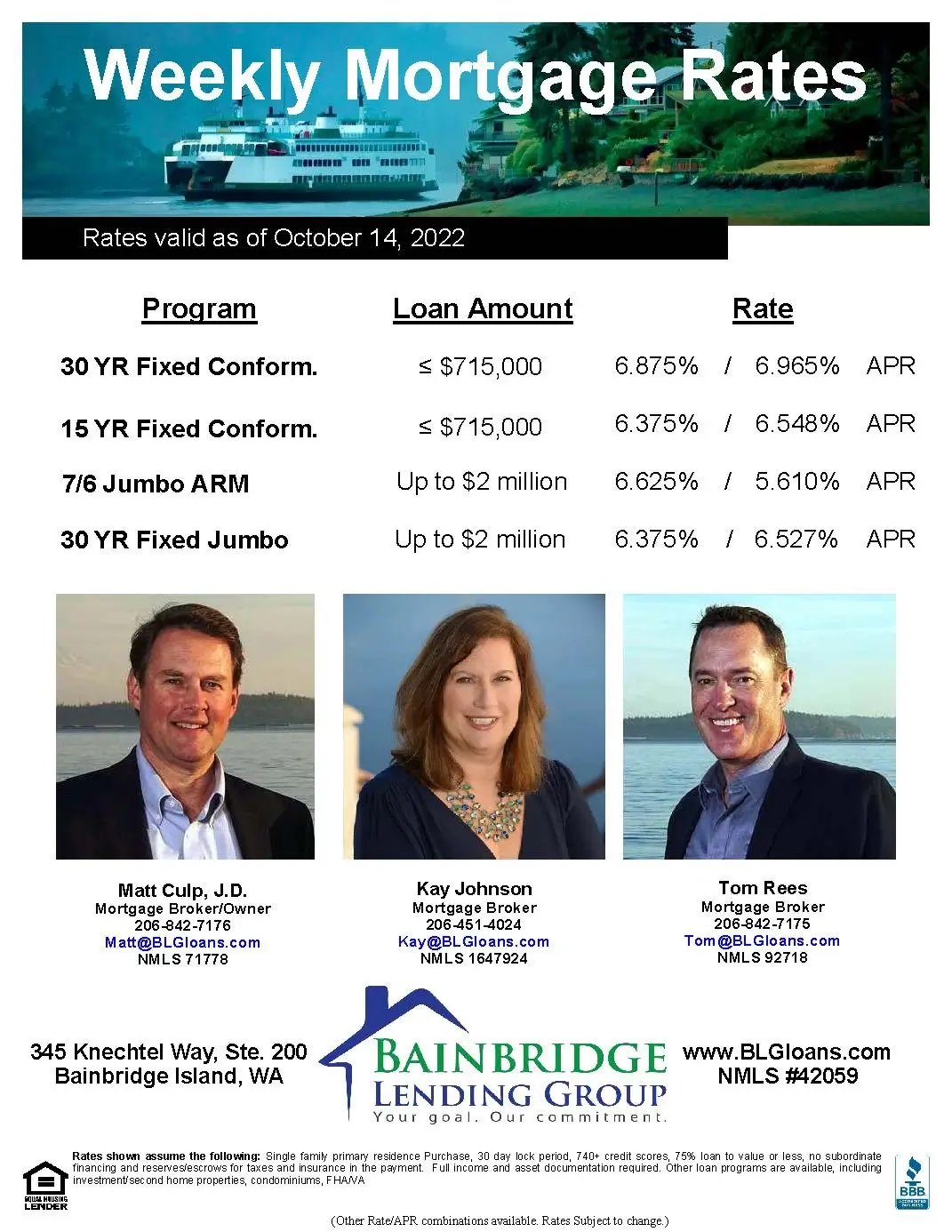 Here are the weekly rates as of October 14, 2022:
30 Year Fixed Conforming: 6.875% (6.965% APR)

15 Year Fixed Conforming: 6.375% (6.548% APR)

7/6 Jumbo ARM: 6.625% (5.610% APR)

30 Year Fixed Jumbo: 6.375% (6.527% APR)
For the weekly rate sheet PDF, click here.
Hi there.  Happy Saturday.  Rates ended the week up yet again.  The 10 year bond ended at 4.02%, topping 4.0% for the first time since 2008.  The Freddie Mac 30 year fixed hit 6.92% up from last week's 6.66%.  For what is worth, attached is our weekly rate sheet.  Please pass it on to anyone you know who could use our assistance. 
Also attached is our Fannie/Freddie 2-1 rate buydown flyer.  This may be of more interest to your buyers and sellers than our rate sheet.  Let us know if you have any questions about its benefits, how it works, how it is made a part of an offer and how it is paid for.
Last week's release of the September inflation data at the wholesale or producer (PPI) and consumer levels (CPI) were hotter than expected.  So the expectation is the Fed will continue to raise rates at their last two meetings of the year, now possibly by .75% at each one.  There won't be any October employment or inflation data between now and the next meeting as that is on Wednesday November 2nd. 
As we announced a month or so ago, the new interim 2023 conforming loan limit was set at $715k (up from the current $647k) by many, but not all, lenders.  However, we have heard from some lenders that the official 2023 max loan limit (announced usually in December) may be lower than previously thought, closer to $700k.  So the few lenders that offer the higher limit have now scaled that back to $699k to be safe.  We have access to lenders with this higher limit. 
We are around all weekend should you or your clients need us.  Thanks and Go Mariners!