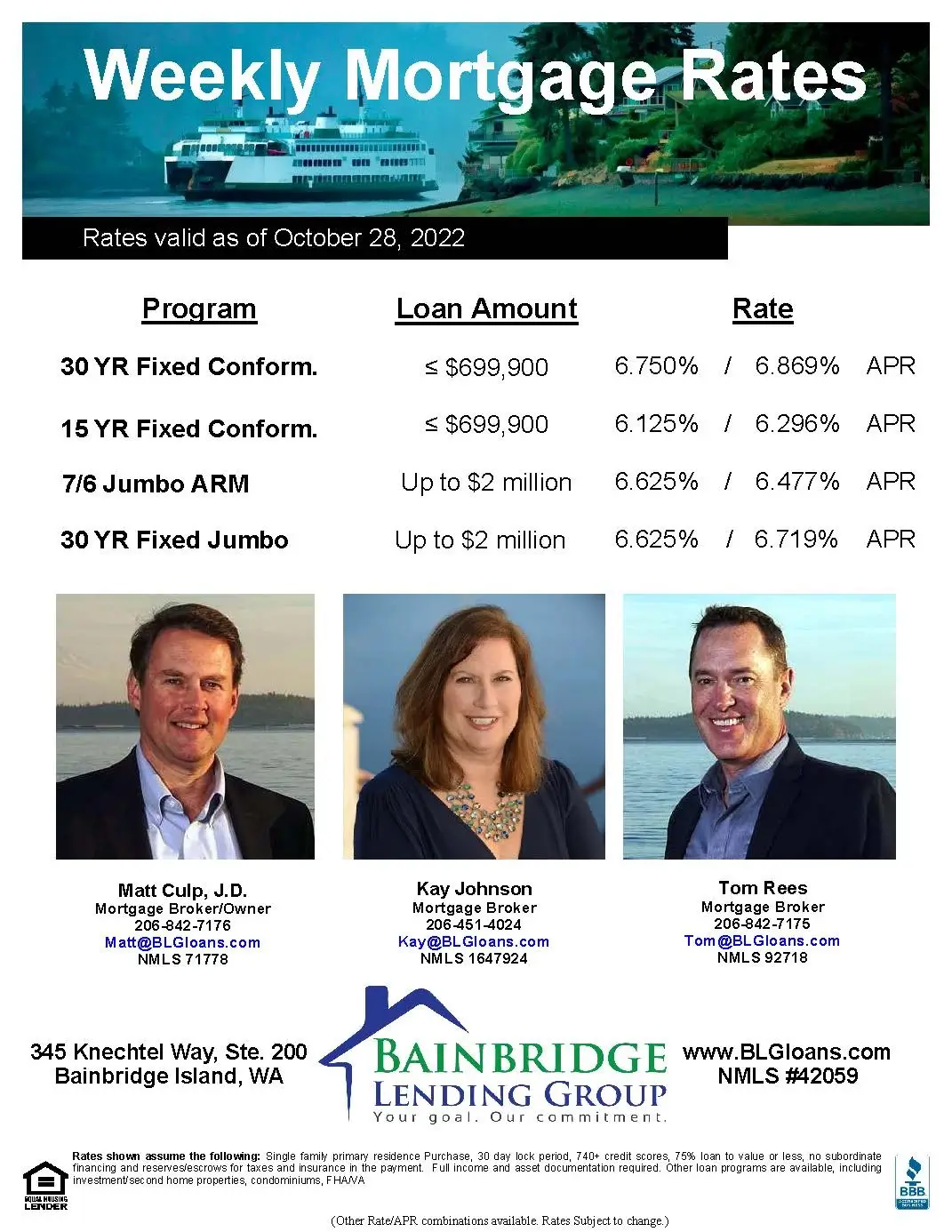 Here are the weekly rates as of October 28, 2022:
30 Year Fixed Conforming: 6.750% (6.869% APR)

15 Year Fixed Conforming: 6.125% (6.296% APR)

7/6 Jumbo ARM: 6.625% (6.477% APR)

30 Year Fixed Jumbo: 6.625% (6.719% APR)
For the weekly rate sheet PDF, please click here.
Hi there.  Happy Saturday.  Well, for the first time in quite a while, I can say that rates went Down this week (despite what the news reports said)!  About .25% across the board.  The 10 year bond settled at 4.02%, down from last week's 4.22%.  However, the highly publicized Freddie Mac 30 year fixed rate end up at 7.08% from 6.94% last week—the highest since 2001. Again, the Freddie rate is based on data from Thursday to Wednesday each week and reported on Thursday morning.  Last week rates dropped Thursday and Friday, so the headline figure missed the end of the week movement. 
Another good reason for you or your clients to Never rely on what "the interweb or news folks say" when checking on rates.  Always reach out to professionals like us to get real time rates for a specific situation.  Attached is our weekly rate sheet.  Please pass it on to anyone you know who could use our assistance.  Also attached is our 2-1 rate buydown flyer.  Let us know if you have any questions about how it works, how it is paid for and why a buyer or seller would want to consider a buydown as part of an offer or a listing.
The markets moved this week on more moderate than expected Q3 GDP and inflation data, "suggesting" that the Fed rate hikes are starting to have an impact on slowing the economy and that "maybe" the Fed will start to throttle back their aggressive stance sooner than later.  That caused both the bond and stock markets to rally at the tail end of the week in anticipation of that sentiment. 
Next week the Fed meets and everyone still expects them to hike their rate another .75%. That is already pretty much baked in to current mortgage rates.  However, most variable rate debt (lines of credit, credit cards) will see a pop in their rates as they are tied to the Prime Rate in some fashion and Prime always goes up or down in concert with Fed rate moves. 
What the markets will be more interested in what the Fed says about current economic conditions and expectations going forward.  They choose their words carefully so their stance on future rate hikes is going to be closely analyzed.  So markets will likely move next week.  Up or down?  Your guess is as good as ours.  But we do expect rates to be lower than they are now this time next year.  All the more reason for a 2-1 rate buydown!