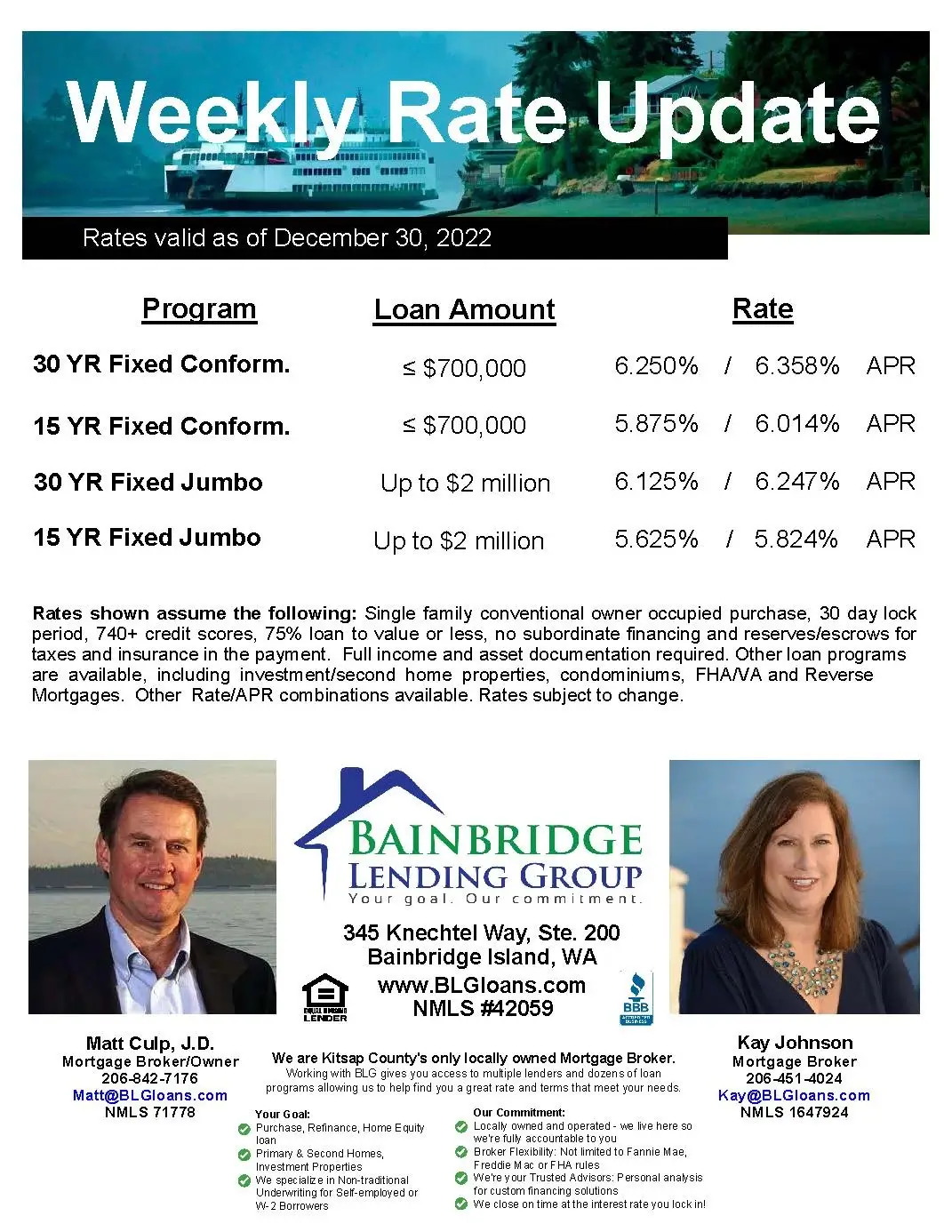 Here are the weekly rates as of December 30, 2022:
30 Year Fixed Conforming: 6.250% (6.358% APR)

15 Year Fixed Conforming: 5.875% (6.014% APR)

30 Year Fixed Jumbo: 6.125% (6.247% APR)

15 Year Fixed Jumbo: 5.625% (5.824% APR)
For the rate sheet PDF, click here.
Hi there.  Rates ended the week up a bit again.  The 10 year bond hit 3.88% today, up from last week's 3.75%. The Freddie Mac 30 year fixed rate rose to 6.42% from 6.27% last week.  Attached is our weekly rate sheet.  Feel free to pass it on to anyone you know who could use our assistance.
Really not much in the way of market-moving economic data this week.  Mostly a lingering concern about the Fed and their rate plans for the coming year.
Keep in mind the 2-1 Rate Buydown program for your buyers and sellers, especially given that rates have moved back up over the last month or so (about .375% in the last beginning of December).  Attached is that flyer.  Let us know if you have any questions.
Finally, you might notice a change to our email signature and the rate sheet.  Tom Rees is moving on to another firm next week.  I (Matt) have known Tom since High School and we have worked together at BLG for over 10 years (and about 20+ years ago at PSME for those of you who remember that company).  We wish Tom well and I'm sure will be reaching out to many of you soon.
We are around all holiday weekend should you need anything from us.  Happy New Year and see you in 2023!