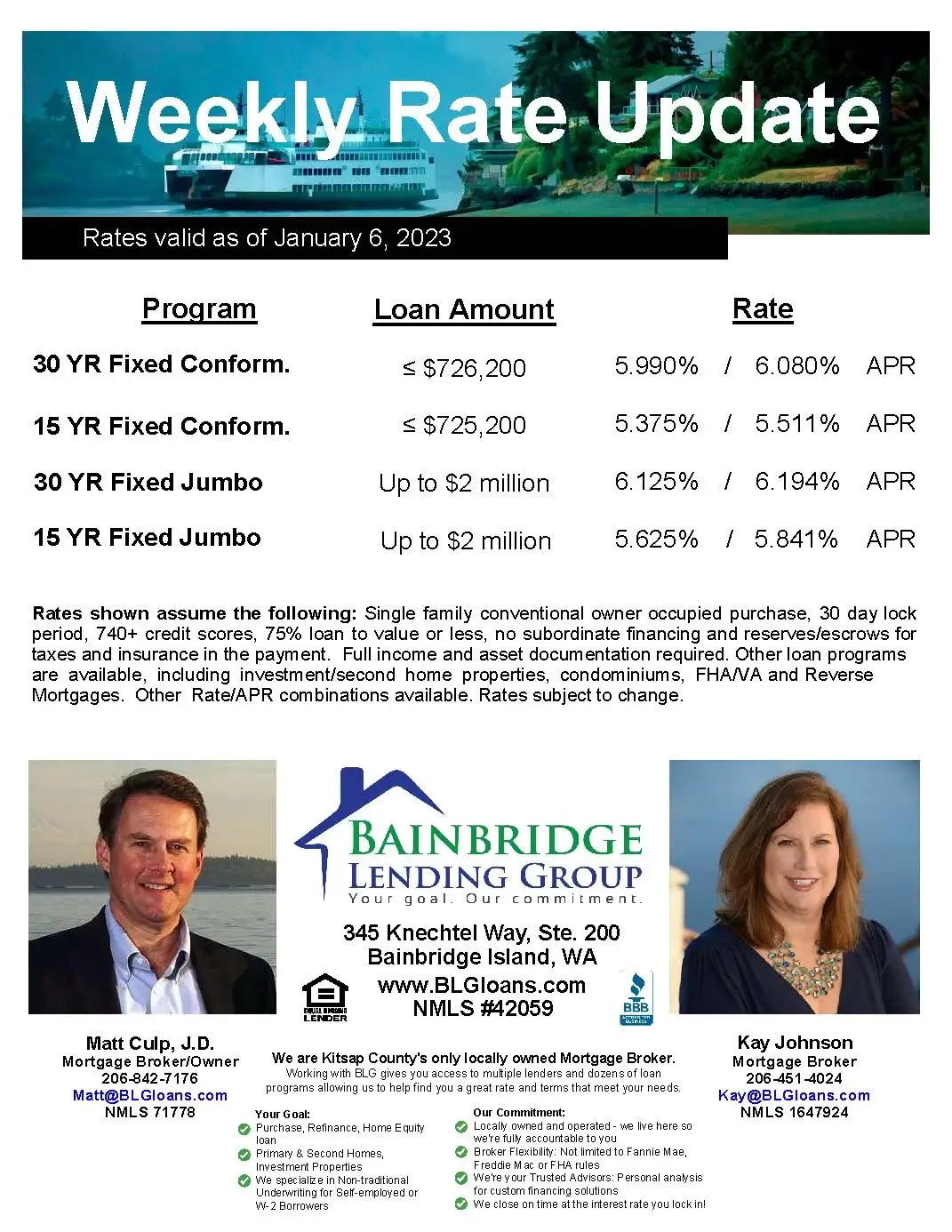 Here are the weekly rates as of January 6, 2023:
30 Year Fixed Conforming: 5.990% (6.080% APR)

15 Year Fixed Conforming: 5.375% (5.511% APR)

30 Year Fixed Jumbo: 6.125% (6.194% APR)

15 Year Fixed Jumbo: 5.625% (5.841% APR)
For the rate sheet PDF, please click here.
Hi there.  Rates ended this first week of 2023 down.  The 10 year bond dropped to 3.56% from 3.88% last Friday.  The Freddie Mac 30 year fixed rate edged up a bit to 6.48% from 6.42%.  Again, when the data are compiled matters.  Attached is our rate sheet.  Feel free to pass it on to anyone you know who could use our assistance.
The main market mover this week was today's December employment report.  The new jobs figure of 223k came in a bit higher than expected but still trending down month over month.  The unemployment rate dropped to 3.2% from 3.5%.  But a key component of the report, average hourly earnings, rose less than expected, both month over month and year over year.  Wage pressure is a focus of the Fed as they navigate pushing their rate up to slow the economy and bring inflation down.  Here is a good quote I saw today on the CNBC website:
Tightness in the labor market is often closely associated with high inflation, which the Fed has been trying to cool. Many look to Fed comments and new economic data (points) for signals that the Fed can slow or pause rate increases in 2023.
That sums it up—Fed is data dependent on when/if they will stop raising rates and how long they will keeps rates elevated.  Today's data is squarely in the camp of the Fed's efforts to cool the economy and inflation are working, albeit slowly.  The bond market acts as a barometer, forecasting where they think inflation will be down the road.  And mortgage rates are loosely associated bond rates (yields).  So if inflation seems to be cooling we may be closer to the end of the Fed rate hikes and nearer to the time when rates can start to come down. Hence mortgage rates moved lower today.  Next week is the December CPI inflation data and that is another key data point for the Fed.
We are around all weekend should you or your clients need anything from us.  Thanks.